05/31/2021
Bozar launches its new website with Emakina

Brussels Center for Fine Arts is ready for a bright cultural summer, with tailor-made online information for all its target groups
Brussels' leading Center for Fine Arts Bozar launches its fresh new website, after an intense agile collaboration with its digital partner Emakina. The project was completed well on time to welcome the public for the new cultural season. The dynamic and flexible collaboration is a success: the website looks attractive, is highly customer-oriented and makes the Brussels cultural temple's rich world stylishly accessible. You can now access all information in a fully personalised digital journey, starting from just one registration.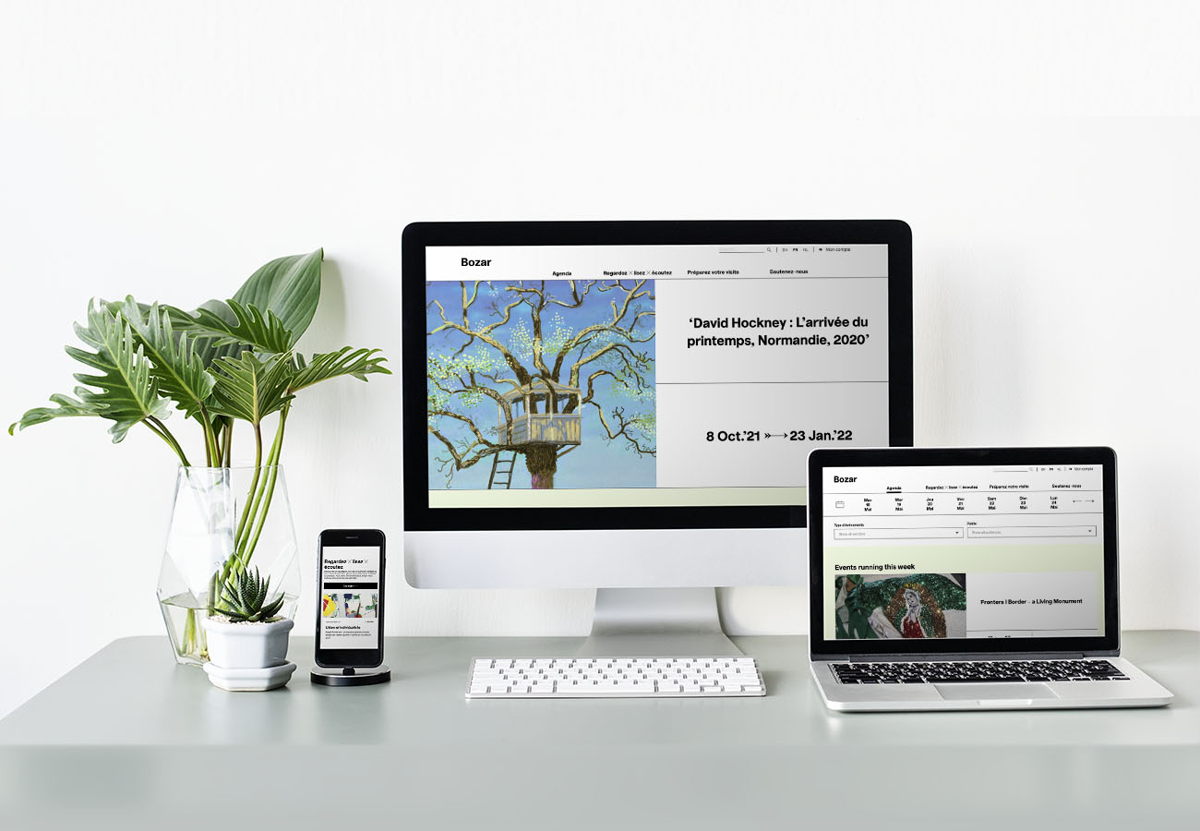 Personal and targeted
The 'User Agency' enthusiastically shared its agile methodology with its colleagues at Bozar. This flexible and customer-oriented approach helped to cover the very broad scope of the organization's activities gracefully, with attention for to all its target audiences, from visitors and members to partners, guides and groups.
What is new for the online visitor? They now access all information in a personalised digital journey, united after one centralised registration. Emakina built the website using Drupal technology and the team integrated a solid bridge to ticket sales.
An innovative AI system further enriches the experience. It aggregates the information of the visitor's navigation history, interests and purchases, and compares the compiled data with the choices of many other users. This results in fully personalised pages, with themes and offers tailored to the user. As a result, the calendar no longer starts from the various art disciplines, but instead from the visitor's experience. The smart technology also offers new possibilities for targeted marketing initiatives, while fully respecting all privacy rules.
Sandrine Demolin, Head of Communication & Marketing at Bozar: " This large-scale project was possible thanks to a qualitative collaboration, based on trust between our respective teams. With each sprint, the project became faster and more efficient. We are proud to be able to offer a new rich online experience to our visitors, positioning ourselves as a meeting place for a multidisciplinary artistic offer, accessible to all."
More efficient information management
For the Bozar team, the new website also represents a major step forward. It now more efficiently manages the communication and ticket sales for the hundreds of events it organises each year, together with many partners and stakeholders. Besides exhibitions and concerts, Bozar is the place to be for film, literature, architecture and all kinds of shows and initiatives, and it also opens its remarkable location for B2B events.
Tim Wolfs, MD of Emakina.BE: "This top project is built on trust. The intensive agile collaboration allows us to fully share our strategic and technical knowledge as the 'User Agency' and contribute to Bozar's future. After this difficult period for the cultural sector, this leading centre for the arts is ready to engage with its broad audience and offer them a colourful range of enriching experiences. It's a true pleasure and an honour to help them achieve this goal in style with our digital support!"